The Mount Holly Conservation Trust has sponsored many events with the aim of increasing awareness and understanding of our local and regional environment. These programs typically feature a notable domain expert and are offered free of charge to the community.
2021
October 9-10, 2021 — Mount Holly Cider Days
Local biologist Peter Smith's animals were on display.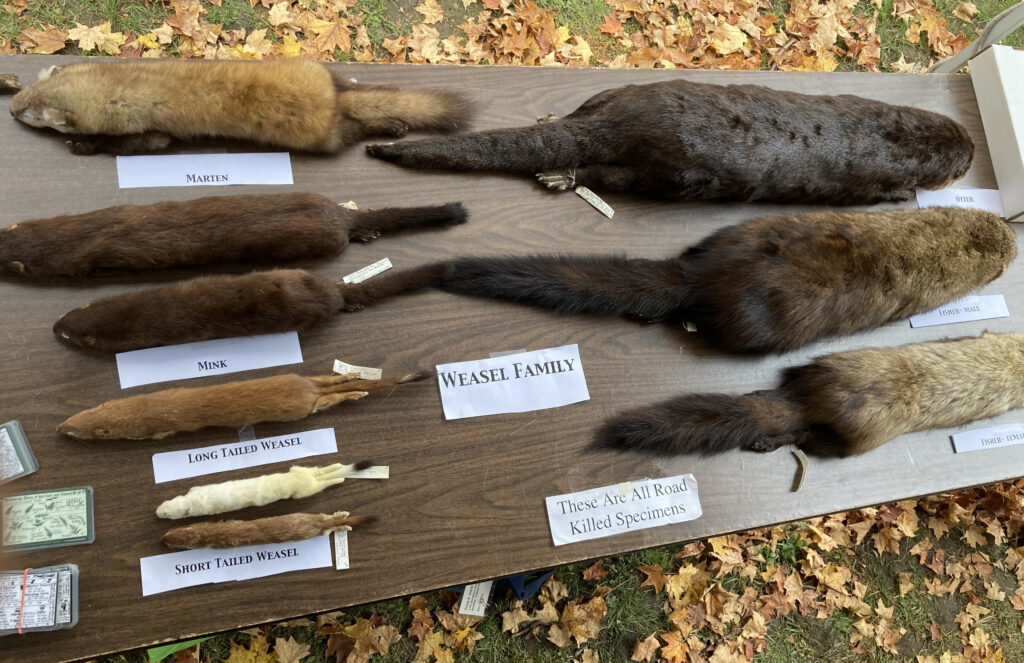 ---
August 11, 2021 — Celebration of 350-acre Addition to Okemo State Forest
On December 28, 2020, The Mount Holly Conservation Trust, Vermont Land Trust, and the Vermont Department of Forests, Parks, and Recreation were extremely pleased to announce a 350-acre addition to Okemo State Forest. This land is the source of the West River, Branch Brook, and Mill River. Its healthy high-elevation forest, streams, and wetlands support an abundance of wildlife, as well as numerous dispersed recreation opportunities for the public. The protected property also hosts a portion of a VAST trail and the Catamount Trail.
On Wed, August 11, 2021, we held a celebration of this beautiful new public land.
Guest speakers included:
Tim Morton (Stewardship Forester, VT Forests, Parks and Recreation)
Becca Washburn (Director of Lands Administration and Recreation, VT Forests, Parks and Recreation)
Kim Royar (Wildlife Biologist, VT Fish & Wildlife)
Louis Porter (Commissioner, VT Fish & Wildlife)
Joan Weir (formerly of Vermont Land Trust)
Nancy Bell (bear habitat activist)
2019
October 12-13, 2019 — Mount Holly Cider Days
Once again, our booth had Peter Smith's animals on display.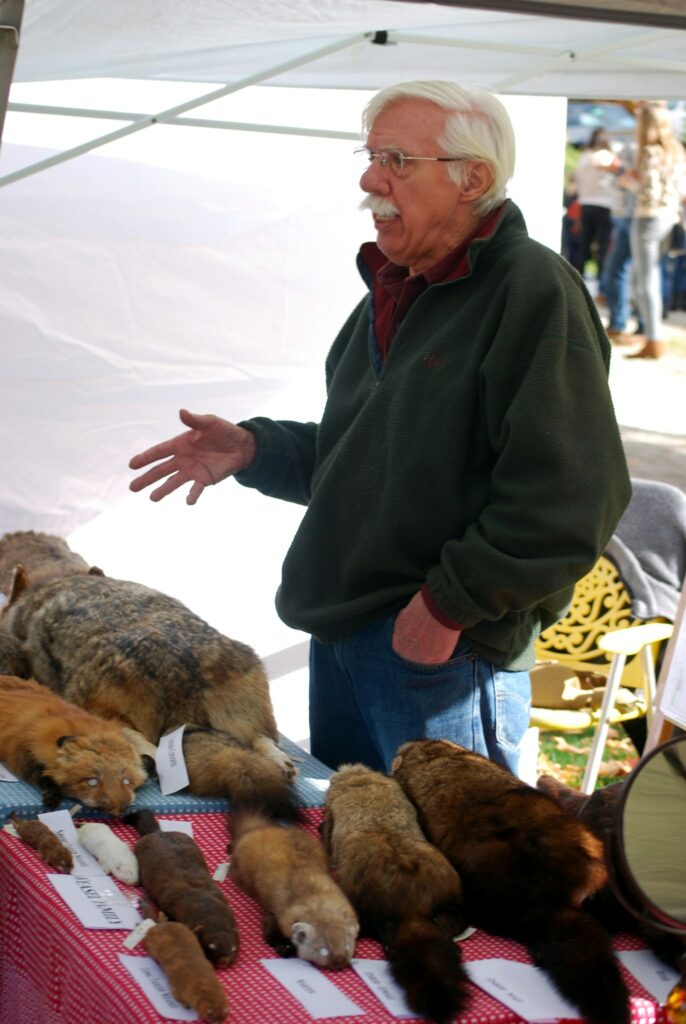 ---
August 14, 2019 — A Conversation about Climate Change
Dr. Alan Betts: "Climate Catastrophe Ahead: Can we still stop it?"
2018
October 7-8, 2018 — Mount Holly Cider Days
---
April 2018 — "Aliens Have Landed In Vermont"
Report in the Mount Holly Chit Chat newsletter about the discovery of the invasive Emerald Ash Borer in Vermont.

---
July 24, 2018 — Mapping What We Love: The Values of the Mount Holly Community
Some meetings have a speaker. This time, we want to hear from you, our community, through an interactive event involving maps, markers, and small conversations among neighbors. Monica Przyperhart, of the Community Wildlife Program at Vermont Fish & Wildlife Department, will facilitate a process designed to recognize what it is, exactly, that makes Mount Holly special. Special to us, that is. For this event, you as a participant get to decide what you most appreciate about our place, and in this process, no one voice will be any louder than another. What do you love about Mount Holly? Here's your chance to let us know!
2017
August 1, 2017 — A Wildlife Presentation by VT Fish and Wildlife biologists Andrea Shortsleeve and Travis Hart. Presentations of wildlife habitat in our area and what programs are available to help landowners manage their property for wildlife.

2013
August 2013 — Michael Clough of the Southern Vermont Natural History Museum presented "Raptors and others Birds of Prey" that drew over 60 participants to the Mount Holly Community Association. This included families, environmentalists, and other community folks. Michael had show-and-tell items including live birds.
---
July 2013 — "Beavers" — Chris Bernier and Cory Cheever from the Vermont Department of Fish and Wildlife presented an educational forum about beavers to a packed community center. They provided useful and fascinating information about the lives of beavers under water, in their houses and searching for food. They also spoke about how to handle nuisance beavers
2012
August 2012 — "Frogs, Turtles, Snakes and More" — Speaker and Naturalist James Andrews serves as coordinator of the Vermont Reptile and Amphibian Atlas Project. Andrews tracks frogs, toads, turtles and snakes in each Vermont town. He distributed an up-to-date list of those known to be living in Mount Holly and urged everyone to send him photos of many species that haven't been documented in 25 years. He made 4 beautiful posters available to us, which are for sale through MHCT.

You may buy one or all 4 posters of the frogs, salamanders, snakes and turtles of Vermont by contacting us. They are $5.00 each or the full set of four for $17.00. We also have Identification cards for Leaves, Twigs, or Ferns for sale for $2.00 each or the set of 3 for $5.00. They make great gifts for your outdoor friends or family!
---
July 2012 — "Meet the Moose" – Cedric Alexander, Moose Project Leader for the Vermont Fish & Wildlife Department for more than 20 years spoke about moose and their habitat to a packed house. Cedric knows about moose–their lives and habits, their history in Vermont and likely places to spot one. Look for them at roadside "salt licks" created by road-salt runoff.
2011
August  2011 — "Loons" – Eric Hanson, biologist with the Vermont Loon Recovery Project, Where the audience learned that just 25 years ago, common loons were disappearing from Vermont, with only 10 nesting pairs statewide. Now there are over 60 pairs—and the loons on Lake Ninevah have played a major role. The chicks they've produced since 1995 have likely helped colonize seven nearby water bodies.
---
July 2011 — "Bears" – Forrest Hammond of the Vermont Fish and Wildlife Department shared intriguing bear facts with the audience and answered questions at this popular presentation.
2009
Annual Meeting, July 2009 — Michael Lew Smith, MS and Kathy Doyle, Ph.D. present "Natural History Inventory of Mount Holly," An overview of the significant natural communities and wildlife habitats of Mount Holly documented and mapped by the environmental scientists of Arrowwood Environmental from 2006 to 2009 using remote identification and field verification.
---